Painter aluminum coil Turkey is one of the most important issues in the metal sector. In addition to being visually good quality, you are likely to buy aluminum products that are also useful with the advantage of Köprü Metal.
What Are The Features of Painted Aluminum?
Painted aluminum coil Turkey properties are one of the topics that many brands who want to use aluminum are interested in. If you are also going to exchange aluminum with Köprü Metal privileges, you should make sure that our products have the following characteristics.
It is very durable because it is products that are cured in the oven and have high elasticity,
Its formability and resistance in external environments are flawless,
Reduces your costs as it provides transportation advantage,
Provides eco-friendly use and is ideal for waste,
It can be preferred according to the area while providing energy efficiency.
Given all these features of painted aluminum, it will be very advantageous to order for you as well.
What Are the Uses of Painted Aluminum?
Below we have listed where painted aluminum, which is one of the widest types of aluminum, can be used. If you are serving in one of these areas, you can choose painted aluminum.
Sandwich Panel
Trapezoidal
Clamped Roof
Suspended Ceiling
Mosque Dome
Door
Auto Plate
Billboard
Garage Door
Composite Panel
White Goods
Channel
Sign Board
By choosing a product that has such a wide range of uses, you can capture more than enough quality. Especially the fact that it has a visually ideal image distinguishes this aluminum variety from others.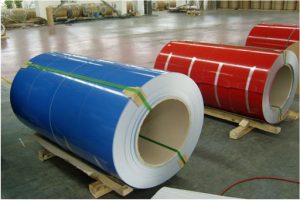 You can contact us to get the best offer for painted aluminum coil Turkey. We provide you the best options! Let's contact us and feel the greatnes of the Köprü Metal!
Get in Touch
Our aluminum product group includes aluminum coil, aluminum sheet, aluminum plate, aluminum trapezoidal, aluminum profile and aluminum foil products. Our galvanized products include galvanized sheet, galvanized coil, galvanized profile, galvanized strip and galvanized trapeze. Our insulation products include rockwool exterior board, rockwool industrial mattress and glasswool partition board. Our metal processing services include sheet cutting, bending, roll length cutting and slitting, sheet sizing, perforated sheet, laser cutting, anodized coating. As Köprü Metal, you can send an e-mail to info@koprumetal.com for detailed information about our products and services that will meet all your needs and demands, call our phone number +90 216 499 33 37 or contact us on our contact page.