If you are looking for a professional Turkish aluminium sheet supplier, you are at the right address. Our company serves as a Turkish aluminium sheet supplier. At this point, you can get support from our company about aluminium sheets.
Aluminium casting is one of the casting methods.  Along with casting types such as Iron casting, Steel casting, Aluminium Casting is also one of the most widely used methods. The process performed is to first operate the melted metal by placing it in a mold suitable for what is wanted to be obtained at the end of the process.
Advantages of Turkish Aluminium Sheet Supplier
Aluminium has a low density. In this way, it provides significant savings in the packaging, transportation, production, assembly, and maintenance stages. Aluminium can be used in the form of sheet and sheet metal, as well as in the form of rods, pipes, plates, and profiles are also available for use.
Aluminium is an element at peace with nature. As a recycling system, it can be easily converted again. Aluminium can be used as the desired product again without any quality loss from its properties.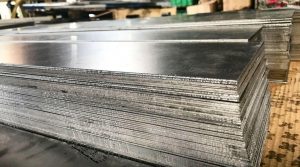 Aluminium has conductivity up to high temperatures. Therefore, there is no deterioration in mold operations. Its light weight provides both time-saving in production and great convenience in transportation and packaging.
Aluminium has a matte silvery color. This color appears due to a thin oxide layer due to exposure to air. Aluminium has no toxic properties. It is not magnetic and does not cause sparks, or fire.
Since the products made of aluminium sheets are much lower than this amount, the consumption of aluminium products used several times a day does not cause any harm to human health.
Best Quality Turkish Aluminium Sheet Supplier
If you are looking for a company specializing in the field of Turkish aluminium sheet suppliers, Köprü Metal is for you. You can contact us for detailed information.
Get in Touch
Our aluminium product group includes aluminium coil, aluminium sheet, aluminium plate, aluminium trapezoidal, aluminium profile and aluminium foil products. Our galvanized products include galvanized sheet, galvanized coil, galvanized profile, galvanized strip and galvanized trapeze. Our insulation products include rockwool exterior board, rockwool industrial mattress and glasswool partition board. Our metal processing services include sheet cutting, bending, roll length cutting and slitting, sheet sizing, perforated sheet, laser cutting, anodized coating. As Köprü Metal, you can send an e-mail to info@koprumetal.com for detailed information about our products and services that will meet all your needs and demands, call our phone number +90 216 499 33 37 or contact us on our contact page