Do you need support from a Turkish Aluminium sheet supplier? You are at the right address. Köprü metal offers you the highest quality and most reliable products. Aluminium is a light, silvery and rust-resistant metal with machinable properties and is one of the most obtained elements in nature. In ancient times, Greek and Roman civilizations used Aluminium salts to fix paint colors. In other words, we can say that it was a preferred item in terms of decoration in those days as well.
What Are the Properties of Aluminium?
Aluminium, which is found in a compound state together with bauxite in nature, is formed as a result of the interaction of limestone and skate rocks with air and weathering. Purified Aluminium is a low-strength material. For this reason, when it takes the form of a component with substances with high durability, and stretchable properties, it can naturally enter the class of hard and luminescent treatable materials. Because Aluminium does not cause sparks.
An Aluminium plate is a material obtained from Aluminium by the rolling method. The thin one of this material, which is a sector by itself, is called sheet metal, and the thick one is called a plate. These products, which are very resistant to atmospheric corrosion, can easily take the desired shape. The conductivity of these substances to electricity and heat is quite high. Thanks to its appearance, it is also quite suitable for decorative coatings.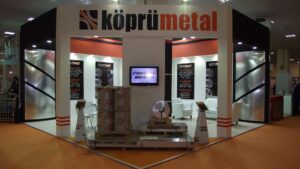 Professional Turkish Aluminium Sheet Supplier: Köprü Metal
Thanks to its high welding ability.  it can be welded in any desired way. Sheet metal plates are between 1 mm and 10 mm and are used in sectors such as advertising, automotive, machinery, construction, and energy, while thick plates are used in many sectors such as molding, machine production, defense industry, ship production. If you also need Aluminium in various fields, you can choose us.
Get in Touch
Our aluminium product group includes aluminium coil, aluminium sheet, aluminium plate, aluminium trapezoidal, aluminium profile and aluminium foil products. Our galvanized products include galvanized sheet, galvanized coil, galvanized profile, galvanized strip and galvanized trapeze. Our insulation products include rockwool exterior board, rockwool industrial mattress and glasswool partition board. Our metal processing services include sheet cutting, bending, roll length cutting and slitting, sheet sizing, perforated sheet, laser cutting, anodized coating. As Köprü Metal, you can send an e-mail to info@koprumetal.com for detailed information about our products and services that will meet all your needs and demands, call our phone number +90 216 499 33 37 or contact us on our contact page